*Hownd*
In the salon this is Lesley's brand of choice. Ethical, natural with no nasties and outstanding results.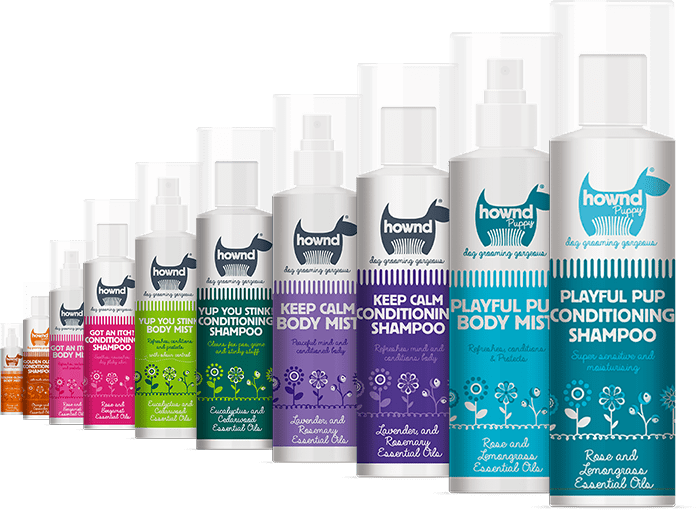 We have the following available to buy:

Banana Facial & Natural Tear Stain Treatment
Banana Facial & Natural Tear Stain Treatment is a magical 2-in-1 face scrub and pH balanced stain treatment that quickly and gently removes dirt and discolorations. It uses ingredients extracted from Sacred Lotus, Evening Primrose Flower, Ginseng Root and Oat Extracts as well as a Vegan alternative to Keratin and botanical extracts to promote healthy hair growth. And the best part – it smells just like bananas!
Miracle White & Bright Colour Enhancing Conditioning Shampoo Treatment
Miracle White & Bright Colour Enhancing Conditioning Shampoo Treatment is specially formulated for all coat colours of all breeds. It is a natural alternative to chemically treated whitening and brightening products. Made with botanical extracts, including green tea extract and a vegan alternative to keratin, Miracle White & Bright contains ZERO bleaches, chemical dyes or optical brighteners. This wonder product effectively neutralises discolorations and removes staining, the kind way. It is wheat free and Vegan, and of course Cruelty-Free certified.
Got An Itch? Conditioning Shampoo
Designed to soothe and nourish dry flaky skin as well as prevent reoccurrence, Professional Got An Itch? Conditioning Shampoo restores lustre and sheen to dull coats. Suitable for dogs of all breeds with intense botanical conditioning extracts, it is ideal for detangling curly coats, and we recommend you simply use less formula for short-coated breeds.
Playful Pup Super Sensitive Conditioning Shampoo
With an ultra sensitive formula, Professional Playful Pup Conditioning Shampoo is deep cleaning yet super gentle, and has an invigorating scent to capture the essence of puppyhood. Suitable for puppies (from eight weeks old) of all breeds.
Yup You Stink! Conditioning Shampoo
Armed with odour control, Professional Yup You Stink! Conditioning Shampoo effectively cleans fox poo, urine, grime, grease and  tear stains- basically all things stinky! Suitable for dirty dogs of all breeds. It's kind to hands, too! Yup You Stink! Conditioning Shampoo significantly reduces drying time, making it ideal for double coated breeds.
Hemp by HOWND Skin Nose and Paw Balm with Sun Protection
HOWND SKIN, NOSE & PAW Balms protect, soothe and moisturise all year round! They are 100% vegan, unscented, fast-absorbing and natural. The balms can be used in the summer months to protect the snout and outer ear areas from UVA and UVB rays, as well as any exposed skin and in the winter period to protect a dog's soft pads on ice and salted pavements. Perfect for paw massages and pawdicures!
*The Pawfume Shop*
'The Pawfume Shop' opened in 2015, created by a veterinary nurse turned professional groomer. This is what she says about her products:
We now have fourteen fragrances in our range, male, female and unisex, most of which you will recognise as the familiar designer perfumes we humans wear ourselves.  As an experienced Veterinary Nurse and Dog Groomer, I take care to ensure our products are formulated to the highest standards, and that they are safe for our four legged friends. All my products are manufactured wholly in the UK and are are long lasting and quick drying, leaving no residue.Pawfumes contain aloe vera and chamomile and can be alternated with baths to avoid dry skin.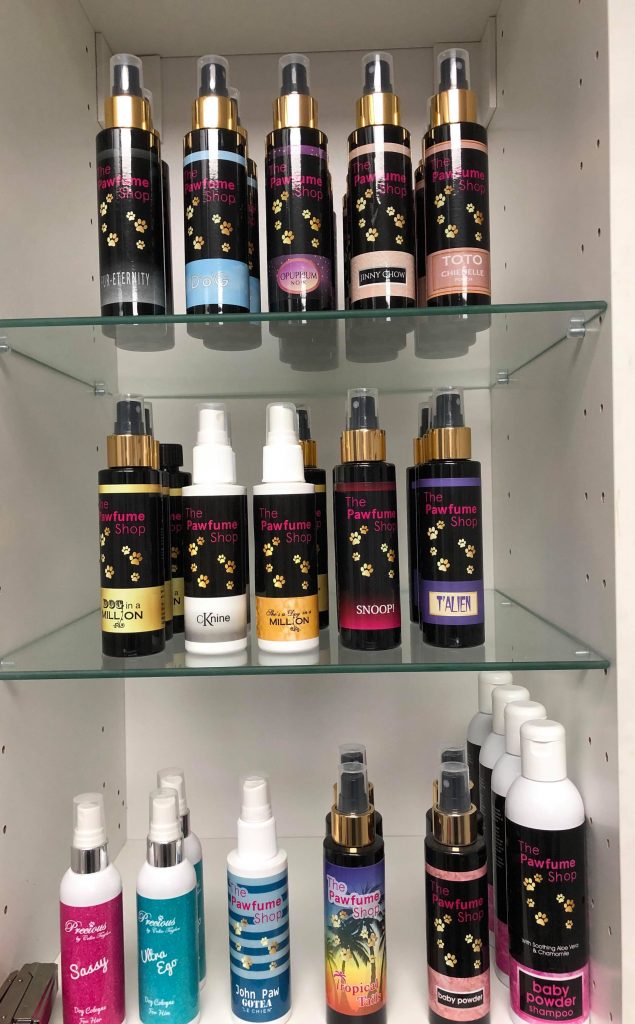 Ask Lesley if there is a fragrance you are interested in.
*Ochah's mud scrubs and mineral shampoos*
These are therapeutic products containing dead sea minerals which give itch relief to pets with skin complaints such as psoriasis or for elderly pets needing some relaxation.
It's also makes a great as a spa alternative to your usual shampoos for customers wanting that little bit extra.